History has seen a number of amazing stand-off rivalries: Ali vs Frazier; The Dodgers vs The Yankees; boxer vs brief.
Though many may not realize it, one of the greatest face-offs of all sits below the mattresses of bunk beds across the world: the Slat Roll vs the Bunkie Board!
Which is better?
To help quantify the true winner between these two great adversaries, we at Fireside Lodge developed a highly scientific series of criteria and pitted the two against each other.
And here are the results...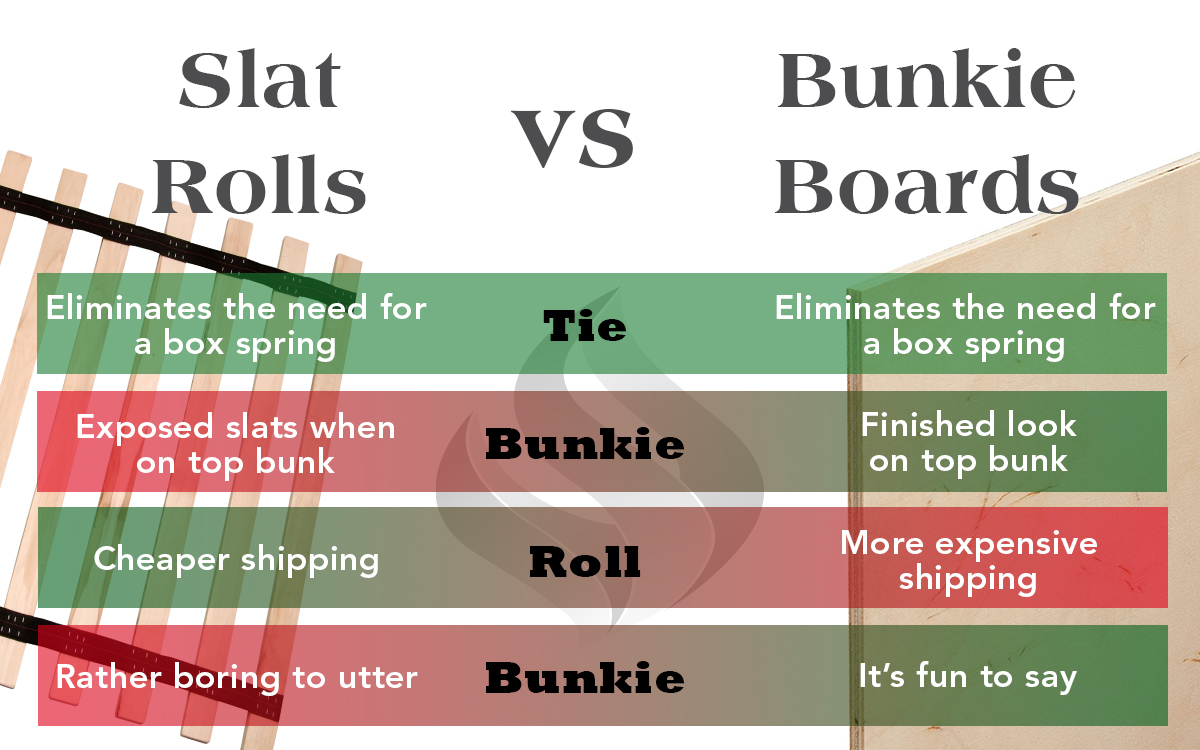 Debunking our findings
Despite the seemingly conclusive results, perhaps there is room in this world for the bunkie and roll to live harmoniously...
To help the healing begin, Fireside Lodge now offers both bunkie boards and slat rolls:
Bunkie Boards
Bunkies are made from cabinet-grade plywood and come standard on all of our Cedar Log, Hickory Log, Barnwood, and Frontier bunk beds for the top bunk only. Along with eliminating the need for a box spring under the mattress, it also gives the underside of the bed a finished look.
The reveal of bunkie boards (the bottom side) is left natural with the exception of Barnwood and Vintage Cedar bunk beds, which are stained to match.
You can add a second bunkie board for the bottom bunk at an additional cost, otherwise the lower bunk uses loose slats and a box spring is required.
Slat Rolls
Slat rolls are made from 1x3 aspen slats with webbing strips to keep them together. They come standard for the top bunk on our Voyageur bunk beds and for both bottom and top bunks on our Voyageur Tipi bunk beds. This eliminates the need for box springs thus providing more headroom for low ceiling clearance uses.
Slat rolls are offered as an option for any bunk bed and can be a great choice as they are not only lower in price, they also ship in a compact roll, thereby helping to keep your total cost down.
In conclusion
As you prepare to place your bunk bed order, make sure you tell your account manager whether or not you want an additional slat roll or bunkie board for the bottom bunk.